An epitome of opulent experiences that will last a lifetime, Ramada Plaza, Chandigarh/ Zirakpur is reckoned to be the best business hotel in the region, simply because it is strategically located in the heart of the cultural & business district of the area. From Ramada Plaza to their esteemed visitors, their message is clear, "You do your thing, and leave the rest to us".
A Tale of Magnificence
Combining classic colonial architecture with sophisticated contemporary decor, the luxurious interiors hold the right balance in terms of comfort, elegance, convenience and service amenities to make your stay pleasant and memorable. The  modern, plush and vibrant guest rooms featuring colonial interiors, hard-wood floors, spa-inspired bathrooms, free Wi-Fi, fitness centre, infinity-edge pool on the roof-top and intuitive climate control living environments, will all ensure that Ramada Plaza,Zirakpur, remains the best option for a home-away-from-home experience for all the visitors visiting the City Beautiful as well as for the city residents.
Subscribe to read the full article: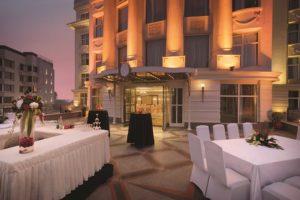 https://www.magzter.com/IN/SANBROS-MEDIA/Urban-Melange/